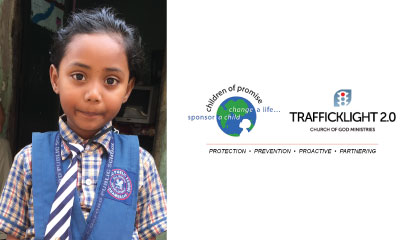 Annual Sponsorship Drive
March 25th, 2015 | Danielle Brossart
Celebrate What God is Doing in the Lives of Children across the World

Children of Promise and Church of God Ministries have partnered with the Trafficklight 2.0 project to make the lives of children safer, stronger and protected globally.  Our annual COP Sunday has been combined with Freedom Sunday in an effort to sponsor 500 children through Freedom/COP Sunday, February 18 .  COP Sunday is September 23 or any Sunday that works best for your church.  Think about these statistics:  136 people are sold or kidnapped and forced into slavery every hour!  That is 1.2 million people per year, and these are just the reported cases.  Are you aware that most of these people are children as young as 7 or 8 years old and that most of them are sold repeatedly for sex?
Trafficking in children is a global problem affecting large numbers of children.  We are encountering more and more children and their families who are unaware of the dangers of trafficking, believing that better employment and lives are available in other countries.  So, for a small amount of money, they ignorantly give a child over to people who promise a job for their child (who supposedly will send money home) and…as you can imagine…they never hear from the child again.  Boys and girls.  The children are taken across borders, are given new identification, and can be found all over the world being used and abused for someone's gain.
We are focusing on stopping this scourge before it happens – focusing on the fact that sponsorship offers children a trajectory of hope that is a huge deterrent to falling prey to trafficking.  We are focusing specifically on:
Protect:  The children we work with are so vulnerable.  Many do not have stable adults who can protect them.  Sponsorship provides protection through close relationships with local Christians in Church of God congregations.  Children are monitored, cared for, educated, nurtured spiritually, given health care, mentored, and watched over.
Prevent:  The sponsorship environment provides HOPE – which sets a positive path before children.  Sponsors put a child on a path to a healthy, productive, and Christ-like future.
Be Proactive:  Would you be that conduit of HOPE for a child who doesn't know you, but needs you desperately?  You can make an eternal difference in the life of a child by taking action today.  Please don't wait.
Partner:  By partnering with Children of Promise, you can be confident that the local church volunteers, guidelines, accountability, and resources all work together to put children on a path that will provide protection as well as a God-blessed future.  You can have a part in that.
We need your church to join this significant effort to change the lives of children.
You can download materials or request them by mail – all are free of charge. Click on 'Register Your Event' button.
REGISTER YOUR EVENT
---
The
Children of Promise
ministry reaches children in poverty in 29 countries outside the United States.  
Currently, children within the Church of God family are at risk of contracting treatable diseases and conditions like malaria, typhoid, dengue fever, HIV/AIDS, and malnutrition.
These are
real children
who are waiting for someone to come to their aid. They are attending Sunday School and weekly church services in local Church of God congregations.   
These are "our" children.
Each Church of God in the United States and other developed countries has the capacity to sponsor all of the unsponsored children. 
God calls us to minister to the poor, the orphaned, and those without hope. We hope you will respond this this need.  Freedom Sunday is in the past but COP Sunday is scheduled for Sunday, September 23rd.  If September 23rd does not work for your church, select any date you want.  The point is to help real children rise out of the bonds of poverty and be protected from child trafficking.

PLAN: Ask your pastor or missions' committee if your church plans to participate. Visit http://www.echildrenofpromise.org/involvedwithus/cop-sunday/
CHANGE A LIFE: Put a smile on a sponsored child's face. Build his body through good nutrition. Let hope grow through her education. Restore his body through medical care. Invite her to receive Jesus in her heart. Sponsor a Child Now!  Register Your Event!
PRAY: Pray that the Holy Spirit will move freely, encouraging individuals, Sunday school classes, youth classes, men's and women's Bible study groups, and others to step up and sponsor a child.
---
Protect.  Prevent.  Be Proactive.  Partner.